| | |
| --- | --- |
| Price: | $11,900.00 |
| Availability: | in stock |
| Prod. Code: | UM-721 |
NEW ARRIVAL 8.22.23
ECO MASTER 50 Disc Machine
Surplus from Library. Late model "D" series serial number. Good running condition, Blue Ray Upgrade. Machine offered reconditioned and 100% cycling with warranty prior to shipment.
See photos, more available along with video please contact us. .
Please email or call with any questions. We have already performed a run and test on this machine, it is in great condition and only will take a few weeks to go through the machine.
TERMS: Deposit with order, balance prior to shipment.
______________________________________________________________________________________________
Run your disc repair operation with the eco master robotic system "Lights Out" during nightime hours. An employee that works all night!
ECO-MASTER — Fully Automatic Optical Disc Repair System Repairs Up to 50 Discs in One Batch...Easy and Fast!
It's Fast and Very Easy to Use!
Completely restores CDs, CD-ROMs, DVDs and Game Discs without operator intervention
Quick and easy — load up to 50 discs and push a button to start
Wet process removes even deep scratches quickly
Exclusive flat polishing technology means DVDs can be safely rejuvenated
Simple LCD touch panel selection of disc type and scratch repair routine
Microprocessor control of all operating functions
Up to 5 disc repair sequences automatically occur depending upon repair setting
Neat, clean and operator friendly
Ideal for video rental stores, libraries, disc resellers, disc repair services
Improve disc quality. Increase profits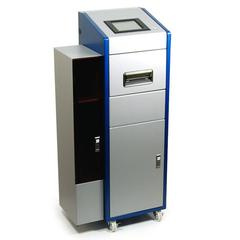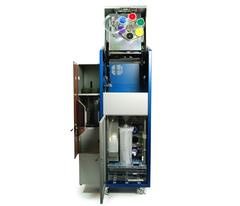 The ECO Master is a 50 disc, fully automatic disc repair system for CD's, DVD's, Book's on Disc, Blu-ray, and even the latest game disc's.
FULLY AUTOMATED - Repairs up to 50 discs as a batch...select the depth of repair on the color touch screen & press start. Walk away...It's that simple!!
NO EXTERNAL PLUMBING OR HOSES - Completely self contained water recycling system. Cleans, filters and recycles the water.
SUPER FAST PROCESS - Cleans disc's in less than a minute and most repairs take less than 3 minutes.
SUPER QUIET PROCESS - The ultra-quiet design is perfect for a library or retail environment.
FROM THE MACHINE BACK TO THE SHELF - No hand finishing or cleaning after the repair process. With all of the ECO brand Disc Repair Systems, discs come out of the machine clean, dry, free of residue and ready to go back on the shelf. Compare that to ANY of the competitors machines.
NO MESS - Do you really want your staff subjected to the mess the other brands make. ECO Brand Disc Repair Systems are the cleanest repair process available. Try the others, then compare. Just make sure you bring a change of clothes when trying the others.
NO HEAT...NO ODOR - The liquid cooled repair process means no heat or damage to the disc. Other brands use heat from a high-speed buffing process to repair the disc. The problem is, heat can damage a disc by warping it. Heat also produces odor. Do you really want your library to smell of melted plastic?
COMPACT DESIGN - A very small footprint (12" x 19") and heavy duty casters allow the ECO Master to be placed virtually anywhere and moved easily by anyone.
VERY LOW COST PER DISC - ECO Brand disc repair systems have the lowest cost per disc than any other machine.
DISCMAGIC, LLC PO BOX 831 SOUTH LYON, MI 48178
SALES@DISCMAGIC.NET (734) 956-3500